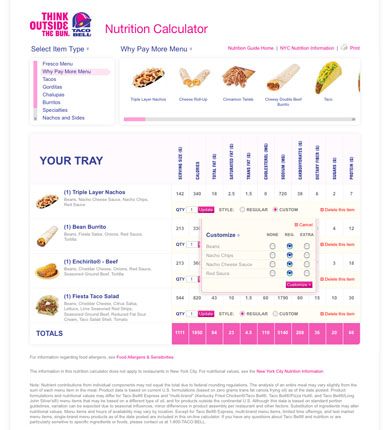 Taco Bell Nutrition Tools
When Taco Bell presented Draftfcb Chicago with an assignment for the re-skinning of its existing Nutritional Calculator, freakdigital recognized the larger opportunity at hand to serve both the client and the end-user simultaneously. After reviewing their existing nutrition calculator and its too-many-step user flow, we instead were able to convince the client of the need to address the underlying functionality and user experience to streamline and improve the process. freakdigital undertook the challenge of re-imagining the ways in which users interact with the tool, and dramatically reduced the number of user interactions needed to provide them with the results they are looking for. After selling Taco Bell on the need to address the nutrition calculator, freakdigital was also tasked with improving like tools and resources, in the end, designing a whole new nutritional hub, and several corresponding tools, one click away from Taco Bell's home page.
Role: Identified the initial problem (and potential within the assignment), collaborated on the IA for the solution, designed the look and feel and user interface for the application and complementing tools. Helped to sell, as well as excite, the client about this approach, and provided direction as necessary during the development process.
Skills:
Design
Information Architecture
Photoshop
Illustrator