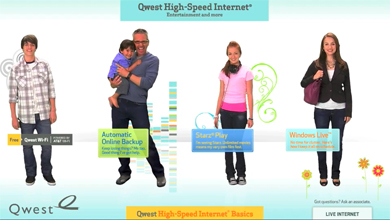 Qwest Interactive Kiosk
Qwest wanted to refresh and reinvigorate their in-mall touchscreen kiosks touting broadband Internet service. The Draftfcb redesign team brainstormed numerous conceptual frameworks and ultimately presented three design concepts. The client selected freakdigital's design concept to move forward with. From there, we had to move very quickly in order to meet our timeline - which kept getting moved based on shifting client expectations. In addition, the original budget we'd expected and projected for was halved, so we had to be doubly efficient to deliver the same quality within budget.
The new, refreshed kiosk experience centered around a "connected family", with each family member highlighting a particular aspect or benefit of Qwest's High-Speed Internet service. We conducted a full in-person casting for the family members and conducted a green screen shoot to capture the footage that would be incorporate into the kiosk. For each product we highlighted, we developed a series of Flash demos that worked together with the video content as well as additional ambient animation related to each demo.
Overall the client was thrilled with the final creative product which enters market in late July 2009. Internally, our team scored an internal win as well with the teamwork and fortitude shown in delivering a product that exceeded client expectations given the project's shifting constraints.
Role: Initial concepting; designed look and feel for selected concept; significant project leadership and art direction and client interaction throughout project; co-cast and co-directed green screen shot for connected family.
Skills:
Design
Information Architecture
Photoshop